This is real comfort and favorite food of every family. If you can, buy the fresh mozzarella. You won't believe the difference and it's worth it. The texture isn't rubbery like the typical mozzarella.
What you need to make Parmesan Chicken-
* 4 boneless skinless chicken breast halves
* salt and pepper to taste
* 1/2 cup flour
* 1/2 cup Italian seasoned breadcrumbs
* 1/4 cup parmesan cheese
* 1 egg
* 1/2 cup milk
* 1 tbsp. butter
* 2 tbsp. olive oil
* more parmesan cheese, for garnishing
* 4 ounces sliced mozzarella cheese (soft & creamy)
Use marinara sauce or store bought spaghetti sauce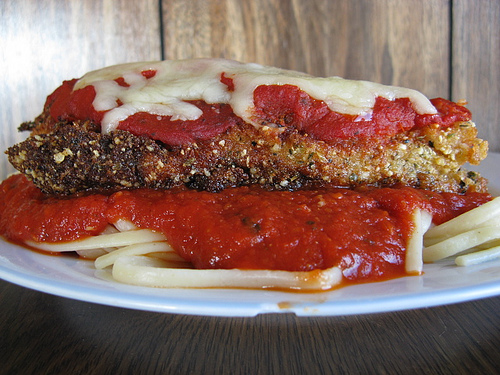 How you proceed to make Parmesan Chicken-
Pound the chicken breasts between two slices of plastic wrap until about 1/4" thick. Season with salt and pepper. Remove excess .Dip in egg/milk mixture, then in breadcrumb/Parmesan mixture.
Heat the butter and olive oil in a large deep skillet. Brown the chicken breasts over medium heat until golden on each side (about 2-3 min per side).
Add the marinara sauce to the skillet. Heat to boiling and simmer 10 minutes. Add the chicken breasts to the sauce and sprinkle Parmesan over them. Place a slice of mozzarella on each piece of chicken. Cover and simmer about 8- 10 minutes or until the cheese has melted and the chicken is tender.
Serve with your favorite pasta.
It can serve minimum four people.